The Lives of the Greek Poets…1697, illustrated, in a contemporary binding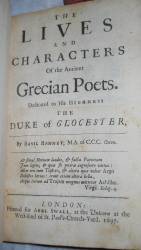 Book Title:
The Lives and Characters of the Greek Poets...
London, Abel Swall, 1697.
In the original binding: the binding in exceptionally good condition.
8vo. (19 x 12cm), title page + x + 190 pages + separate title leaf to part 2 + 82 pages + 2 page publisher's catalogue+ 3 full page plates inserted in the text. Collates A6, B-M8, Aa-Ee8,Ff2+ 3 plates.
3 full page illustrations, and a number of smaller engraved portraits on the text pages. Some light browning to the pages, quite extensive on a few pages, but never effecting legibility. A slight bruise to the top edge effecting about thirty pages and four leaves torn in the margin (the longest tear approximately 4cm long), three of the tears without loss and one with slight loss (possibly a fault in the paper), one leaf (C2) with a blank corner torn away. However, generally a good copy. A short tear in the blank leaf before the title page and the free endpapers stained at the edges, seemingly with the glue used by the binder.
Bound in full leather (brown polished calf), contemporary with the book. The binding with five raised bands on the spine, rules around the edges of the covers and a panel in the centre of each cover with a stylised plant stamped at each corner of these panels. The binding is in exceptionally good condition, with a tiny piece missing at the top and bottom of the spine, some rubbing on the hinges and corners (one slightly bumped), some light scratching and marking, and two very small pieces of leather missing on the back cover where the plant was stamped on top of the line forming the panel.