The British Muse, scarce and important anthology of English Poetry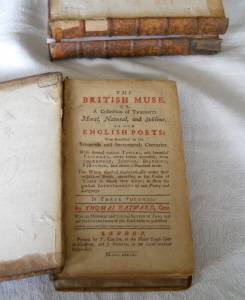 Book Title:
The British Muse, Or, A Collection of Thoughts Moral, Natural and Sublime, of our English Poets…
London, F. Cogan etc., 1738
3 volumes, 12mo. (16 x 9.5 cm). Volume 1: xxiv + 20 unnumbered + 288 pages. Volume 2: title page + 312 pages. Volume 3: title page + 312 pages.
Readable throughout, but a worn copy. Extensive browning, mainly even and fairly light, to the pages, a few small heavier brown spots and marks. The title pages browned, those to the first two volumes with some creasing and chipped on some edges and corners. A number of pages at the start of volume three crease in the blank corner, without loss.
The pages held together solidly, but the bindings (originally diced calf), defective, two covers missing and the others detached and worn, the endpapers missing or defective. The leather spines defective.