Early Eighteenth Century Science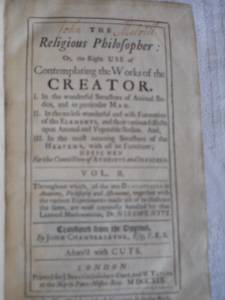 Book Title:
The Religious Philosopher: Or the Right USE of Contemplating the Works of the Creator…Vol. II
London, J. Senex and W. Taylor, 1719
Translated by John Chamberlayne, 
This volume is concerned mainly with earth sciences and natural history, containing sections on Air, Meteors, Water, The Earth, Fire, Animals and Plants.The title page continues;-
'Throughout which all the late discoveries in Anatomy, Philosophy and Astronomy, together with the various experiments made use of to illustrate the same are most copiously handled…'
1st Edition. Volume 2 only. 8vo. ( 20 x 12 cm). Title page + 14 unnumbered leaves listing the contents and pages numbered 377- 733. Six folding plates.
Some reasonably light staining, marking and creasing (particularly from the pressure of the folding plates), but generally clean and always legible. A brown stain, like a water stain, running down pages 425-448. The illustrations rather worn, with staining and most of them torn without loss. Two of the illustrations are numbered XIII and the others XIV- XVIII. Perhaps a missing illustration, as there is a stub immediately after the title page. 
The endpapers rather browned and not pasted down to the boards, the title page somewhat marked and fingered. A previous owner's inscription on a blank before the title page and the name John Melvill written at the head of the title page.
Bound in panelled calf, of about the same period as the book. The binding rubbed and worn, but solid, a split about 6cm long on the front hinge, with some leather lost. The binding is in the flat backed style and rather dry and tight on the book, the front cover standing slightly away from the book when the book is closed.
the 3 vols. Abe £895. 0.54un est 0.8 wrp. 0.55un est 0.85wrp abe £125