Bacon's Essays published by William Pickering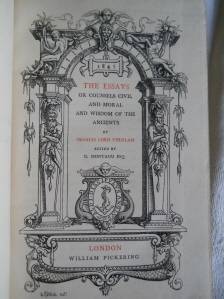 Book Title:
The Essays or Counsels Civil and Moral and Wisdom of the Ancients
London, William Pickering, 1845
8vo. (17 x 10.5 cm), iv unnumbered pages, xxx + 356 pages + 4 page Pickering catalogue. Generally very clean and crisp internally, with a few light marks and spots and perhaps the slightest creasing to the crisp, white paper. The top edge just a little uneven and dusty. The endpapers a little spotted, with the small blind-stamp of a bookseller on the front endpaper.
Bound in the original binding (pinkish-brown cloth covered boards), the binding very solid, but with some light marking and discolouration. The corners a little bent, and a knock at the bottom of the front cover about 2.5 cm long. The cloth creased, and a little frayed at the top and bottom of the spine. A bruise, about 1 cm long, on the edge of the back cover. The original paper label on the spine, readable, but discoloured and a little scraped, with loss at the edges which affects the top and bottom lines of print on the label. The top edge of the book rather dusty when closed, and the other edges a little marked.
  The quiet distinction of Pickering's publications printed at the Chiswick press, with their carefully chosen typefaces and paper, their excellence of press-work, makes them stand out from other Nineteenth Century editions.  Printing such as this enhances the reading of these delightful and thought provocing essays.