Observations On Poetry, Occasioned by the Late Poem Upon Leonidas by Henry Pemberton bound with Leonidas by Richard Glover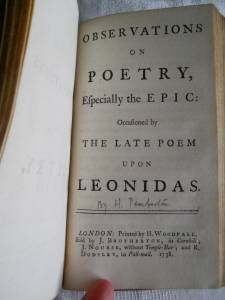 Book Title:
Observations On Poetry , Especially the Epic: Occasioned by the Late Poem Upon Leonidas
London, H. Woodfall for J. Brotherton etc., 1738
Small 8vo. (16 x 9.5 cm), xii + errata leaf + 167 pages. Bound with the half title page present. Generally a very clean copy, although a water stain runs down the page from page 142 onwards, on the text but never obscuring it, faint apart from the last four pages, where it is more noticeable.
Published anonymously.
Bound with and proceeded by;-
Leonidas. A Poem. (by Richard Glover)
London, for R. Dodsley, 1738.
2nd edition. Small 8vo. (16 x 9.5 cm), xxiv + 262 pages + errata leaf. Legible throughout, however the pages lightly and evenly browned, with occasional heavier brown spots, including a few on the title page, the half title page quite heavily browned. Slight creasing to the edge of the first few pages.
The pages held solidly together by a flat backed leather spine of approximately the date of the book, the back cover attached but worn, the front cover missing.
Additional Pictures: