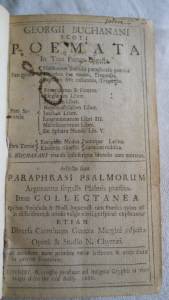 3. Buchanan, George Poemata…
London, B. Griffin, 1686. Large 12mo. (15.5 x 8.5 cm), (xii) + 592 pages. Generally a clean, readable copy. The title page rather dusty with two very small holes in the title page, old writing in brown ink on the back of the title page which shows through, a tear 3.5 cm long at the bottom of page 1 of the text, without loss. Some light browning to the pages and a few corners turned over, one leaf with a heavier mark, but the text still readable and one leaf torn across half its width, without loss. The last four leaves rather dusty, one lacking a corner, without loss of text.
Bound in brown leather (polished calf), treated by the binder to produce a mottled effect, rubbed particularly on the spine and corners. The leather cracked on the hinges, but the boards firmly attached. Fine heraldic bookplate of Charles Dunster and a few pencilled notes inside the front cover.
Buchanan (1506-1582) was one of the influential scholars in Scotland and Europe. His Latin poems include satires against the worldliness of the Franciscans, epigrams, adaptations of ancient Greek plays, political flattery and his famous translation of the Psalms. He taught in several European countries and became prominent in the political life of his native Scotland towards the end of his life.