Shelley, Percy Bysshe (Poet). Book with Family Association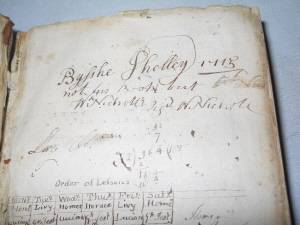 On the front free endpaper the inscription 'Bysshe Shelley 1715 not his book but W. Nicholl's'.
8vo. A very worn copy, the title page replaced in manuscript, so impossible to date, but clearly before 1715. The pages held together reasonably soundly.
Bound in a full leather binding, panelled calf, the boards loose but attached, but the binding very worn: leather missing from the bottom of the back cover and much of the spine.
The endpaper on which the inscription is written, is worn with two small holes, although the inscription is easily legible. There is quite a lot of other writing and scribble, of a schoolboy kind below the inscription. Half a rear endpaper remains on which the names Bysshe Shelley and Whitlock Nicholl reoccur, along with other scribble, including a brief note mentioning Abingdon.