Folio Engraved Portraits, Published in 1821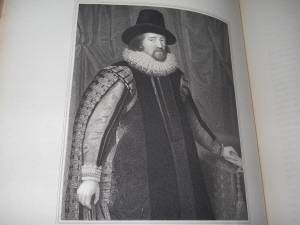 Book Title:
Portraits of Illustrious Personages of Great Britain Volume II
London, Lackington, Hughes etc, 1821
Folio (42x27cm), 41 full page engravings, each with accompanying text (varying from four to ten pages for each subject).
The subjects of the engravings include: Francis Bacon, Sir Francis Drake, Sir Walter Releigh and Sir Thomas Bodley.
The engravings with small brown spots, quite numerous on many of them, although not really noticeable on the images themselves but on the white paper surrounding them and on the lettering beneath each engraving. A few of the engravings with slight creasing, many with a faint browning in the edge of the margins (on a few plates rather heavier), some with brown spotting on the back and some with the engraving itself showing as a brown mark on the back. The last illustration with a water stain in the blank lower margin.
The text pages generally clean, with a few marks and light creases, including a light brown mark on the title page.
Disbound, the pages held solidly together, but the boards worn and detached and the leather spine defective.
Inland postage at our standard rate, but postage abroad is likely to be higher than the standard rate as this is a heavy volume.
Additional Pictures: