Memoirs of Edmund Ludlow Esq. British Civil War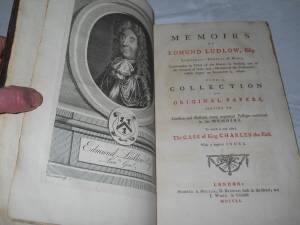 Book Title:
Memoirs of Edmund Ludlow Esq.; Lieutenant-General of Horse…
London, A. Millar etc., 1751
Folio (31x20cm), portrait frontispiece + xii +502 + 18 + pages + index.
Generally a clean, crisp copy internally, with a little browning and light marking to some pages. A brown mark on the back of the portrait and a narrow brown mark at the edge of the title page (approximately 3 millimetres wide and 8cm long).
Bound in brown leather, the binding distressed: the surface of the leather worn, with some loss, the leather cracked on the hinges with loss, leaving the covers almost detached and the free endpapers worn and detached. The spine in the flat-backed style ( i.e. with the leather glued to the back of the text block), the leather on the spine very worn, with areas of loss; the pages holding together firmly, but the spine dry, so that the book may require careful handling.
Inside the front cover the identities are disclosed of no less than four previous owners. The large heraldic bookplates of the Earl of Waldegrave and of Richard Hart-Davis and above them the name and shield of Philip Miles drawn by hand and the ink stamp of 'Burdon, The Hall, Clevedon, Som'.
There is a defect in the page numbering at the start of the twenty pages of 'King Charles's Case', which occurs in all copies of this edition. The text is complete.