Life Of Jean Paul Frederic Richter…from the library of John Sterling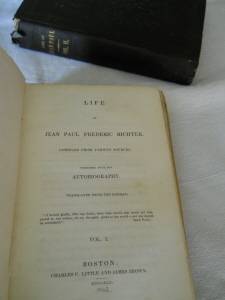 Book Title:
Life Of Jean Paul Frederic Richter…Together With His Autobiography. Translated From The German.
Boston, Charles C. Little and James Brown, 1842.
  First Edition.  2 volumes.  8vo. (18x11cm).  Volume 1: xii + 356 pages, with errata slip.  Volume 2: viii + 365 pages.  Each volume with a blank leaf after the free endpapers of the same paper as the endpapers.
  The pages generally clean, with a few brown spots that never affect legibility.  The endpapers quite heavily browned, the half title page of volume 1 marked, the title page of volume 1 a little browned and creased with a heavier brown mark on the back.  Pages 17-59 of volume 1 slightly loose and standing forward at the fore edge of the book when it is closed, leaving some of them rather creased at the edge.  The stitching very loose between pages 16 and 17 and pages 48 and 49, pages 55 to 58 loose at the top of the page.  
  The title page and preliminary leaves of volume 2 with quite extensive brown spotting and a tear in the margin of one leaf, approximately 2 cm long, without loss.  
  The edges of the pages of both volumes rather browned and a little marked and rubbed when the books are closed.  The top edges rather dusty.
  Bound in the publisher's black cloth hardback binding with the title etc. in gilt on the spine, the covers stamped in blind.  The corners bumped and the cloth rubbed away here and in some places on the edges.  A line of reasonably faint pin pricks on the back of volume 2.  The spines frayed, with loss to the cloth, for about 1cm at the top and bottom of the spines.  Some rubbing on the hinges and a split about 1cm long on the rear hinge of volume 1.
  In the front of both volumes is the signature of a John Sterling, who may be the English writer of that name, whose biography was written by Thomas Carlyle.  Tantalisingly there is also the ticket of a Southampton bookseller and stationer in volume 1 ('Libraries Purchased').  Sterling died at his home in Ventnor on the Isle of Wight and Southampton was the nearest large town.  There are also a few other pencilled marks on the front endpapers.