Thomas Grey, Pickering edition original boards.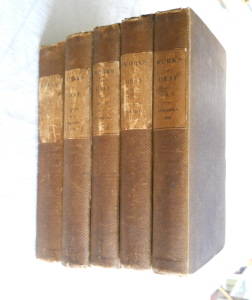 Book Title:
The Works of Thomas Grey (5 volumes)
London, William Pickering. 1835-43
  5 volumes, in the original cloth with the original paper labels.
  Small 8vo. (17x10.5cm).
  All volumes with the half title page present.  The pages generally very clean and crisp, a few pages with very light browning and the occasional brown spot or light creasing.  A few pages a few millimetres short at one margin and a few pages somewhat rough on an edge where they have been separated.  The top edges of the books dusty, which occasionally creeps onto the top of the page slightly.  Most endpapers with some browning.
  The dating of volume 1 difficult: most unusually for a Pickering publication the number giving the decade is a damaged piece of type, but it appears to be a 5, giving the date 1855, the date on the paper label on the spine is hard to read but appears to be 1836!
  Volume 1: Portrait frontispiece: title page, advertisement etc pages i-xvi (i-ix unnumbered); life of Grey i-cxxiv: text 223 pages.  The frontispiece with some browning, which has transferred to the title page.
  Volume 2: 1835. Viii + cxvii + text 192 pages.  The title page and the first few pages creased in the corner.
  Volume 3: 1835.  Viii + 311 pages. Slight creasing to the title page, a crease in the rear endpaper.
  Volume 4: 1836 viii + 312 pages
  Volume 5  1843 xii + 332 pages
  All volumes bound in brown cloth, all the volumes solid, but with some fading and wear.  Four volumes with a small area of cloth (approximately half a cm deep) lost at the top of the spine: volume 1 with a small piece of cloth, I cm deep missing below this on the back hinge.  A few other short splits in the cloth, particularly at the bottom of the spines.  Some corners bumped, often with some damage to the cloth on the corner.  Some fading to the cloth on the boards, and the spines more noticeably faded.  The front cover of volume 3 with a faint water stain.
  The original paper labels on the spines very much darkened and somewhat rubbed, with slight loss of corners and edges. The spine labels all dated 1836, apart from Volume 5 which is dated 1843.
  Quite a heavy little set of books, which may incur some additional postage.