Catalogue of Antiquarian Bibles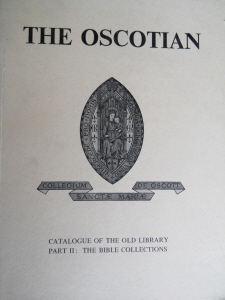 Book Title:
The Oscotian Catalogue of the Old Library Part II: The Bible Collections
New Oscott, St. Marry's Seminary, 1971
  1st edition.  Paperback, in the original wrappers (24x18cm), xxii + 208 pages.
  Internally crisp and clean.  The wrappers solid, but with some light wear and marking, including a small piece missing at the top of the spine.
  An interesting catalogue of Bibles and related books, from an important Roman Catholic library with useful annotations to the entries.