Survey of London Vol. 20 Trafalgar Sq. and Neighbourhood, 100+ illustrations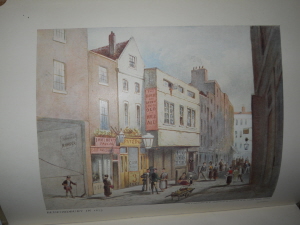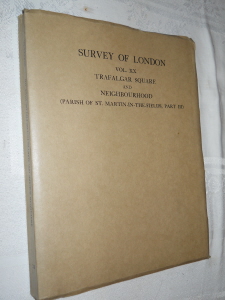 Book Title:
Survey of London Vol. XX Trafalgar Square and Neighbourhood (Parish of St. Martins-In-The-Fields, Part III)
  A scarce volume from this iconic study of London that surveys the very heart of this wonderful city.  With over a hundred pages of illustrations and three beautiful colour prints it will delight anyone who loves the history of our capital.
  Published by London County Council in 1940.
  Number 679 of an edition of 700 copies, as noted on the last of the text pages.    
  30x23cm.  Xxii + 147 pages text + 110 pages illustrations + 3 colour illustrations.
  A very clean copy, with only a very few small spots.  The edges of the text pages often uneven and rough where the pages have been separated by a reader, sometimes short tears in the margin here.  A few pages still unseparated.   The illustrations, like the text, very clean.
  In the original printed wrappers, clean and solid, but the spine creased and the edges of the wrappers creased with a few short tears.