English Dictionary, printed 1750, by Thomas Dyche and William Pardon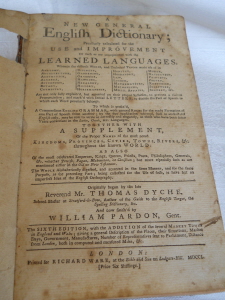 Book Title:
A New General Dictionary of the English Language…The Sixth Edition
Published in 1750 by Richard Ware in London.
Eighteenth Century dictionaries are surprisingly scarce.  A fascinating book to dip into:- the definitions and obsolete words give a wonderful taste of the Eighteenth Century.
  8vo. (21x13cm); the pages unnumbered but a total of, approximately, 500 pages.
  The surface of the pages generally lightly browned, never preventing the text being read.  Many pages with brown spotting and a few other marks, again never preventing the text being read.  The title page quite heavily browned and with a few other marks, a small piece of paper missing on the bottom corner.  The browning heavier at the beginning and end of the volume.  A few pages a little creased.
  The pages held firmly together, although the stitching perhaps a little worn in two places.  However the last page of the text detached along with the back cover.  The front end paper torn, with loss.
  The leather binding very worn: the front cover missing and replaced with a worn leather covered cover not matching (and detached).  The back cover almost detached, along with the last page.  The leather spine, with the title in gold on a black leather label, very rubbed with some leather lost.
Browning and brown spots to the pages, but readable throughout.  A few other marks and some creasing to the pages, including the title page.  The browning heaviest at the ends of the volume.    The leather covers do not match each other and are detached.  The last leaf detached with the back cover.  Please see below for full details of this Dictionary's condition.
Additional Pictures: