Amy Troubridge. Woman composer and musician. Archive of manuscript compositions and working papers.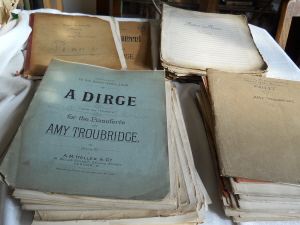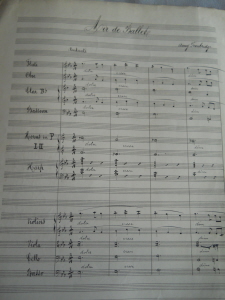 Book Title:
Compositions and Working Papers.
  A collection of many hundreds of pages of manuscript material by this gifted female composer, focusing on four works.  Two of the works are present in finished form, one in full orchestral score.  The most interesting of these works, The Teraph, can be largely reconstructed from the vocal and orchestral parts.  At times she reaches out from the conventional, drawing on folk music, with echos of Wagner and Liszt.
  Amy Troubridge was born in 1866, according to the 1901 census, at which date she was still unmarried.  On one of the scores she gives her address as; Miss Amy Troubridge/I Durham Place/ Chelsea/London S.W.  On another she writes the address  21 Cheyne Court/Chelsea S.W.   Her death, whilst living at the latter address occurred on the 7th July 1932 (London Gazette).  She was probably the sister of Laura Hope (nee Troubridge) of More House, Tite Street Chelsea (See the account of Laura's marriage in The Morning Post 4th August 1888) .  Seven printed compositions by Amy Troubridge are in the British Library collection.
  The pages often, browned, dusty and creased but generally clearly written and still easily legible.  The covers often torn and defective.  A very few pages torn and defective.  The sheets sometimes rather muddled.  
The compositions are;
1.  Cupid in Arcady Music by Amy Troubridge
Manuscript on lined music paper.  Piano and vocal.41 pages, containing fifteen musical numbers.  Songs (with lyrics) and piano interludes with cues to a spoken text.
2.  Dance of the Poisons.
(Ballet)  Scenario by Beatrice Studley Music by Amy Troubridge.
Two handwritten scenarios, typed scenario,
Fair copies of some of the dances often in more than one copy, written in ink.  Numorous pages of working drafts, often in pencil, with many alterations and additions  
3.  Ballet des Roses
Orcestral work.  3 handwritten copies in full score, each running to about 30 pages, a number of handwritten orchestral parts for this work.  On the back of one Miss Amy Troubridge/I Durham Place/ Chelsea/London S.W.
4.  The Teraph.
This work was printed, at least in part.  Included is  'A Dirge from the "Teraph"  published by A.M. Heller & Co.  Orchhestral Parts Can Be Obtained On Hire'.  The British Library Catalogue gives the date 1901 for this publication.
  Handwritten vocal parts for numbers from this work including a song 'Yesterdays Roses' and a 'Hymn to Isis'.  A few pencil drafts with corrections.
  A large number of handwritten orchestral parts for this work, but no full score.  From some of the parts the sequence of musical numbers can be reconstructed.  The orchestral parts often contain one number from the composition, with other parts for the same instruments for successive numbers.
5.  Two copies of 'The Pierrot's Lament/ for the Pianoforte by Amy Troubridge' printed by A.M. Heller & Co.  This is not amongst the seven items composed by Amy Troubridge in the British Library.
Additional Pictures: