Sir Walter Besant. Handwritten letter, signed, 1889, regarding a recent work by him.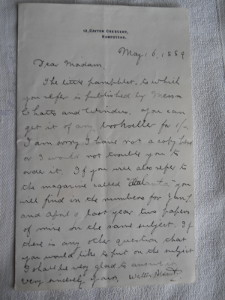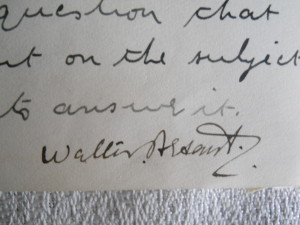 Sir Walter writes to a female correspondent, that 'The little pamphlet, to which you refer' can be got from any bookseller for a shilling. He refers her to 'two papers of mine on the same subject' published in Atlanta magazine last year, signing the letter at the end.
The letter on a folded sheet of paper, giving four sides approximately 20 x 12.5 cm. At the top of the first page the printed address 12, Cayton Crescent, Hampstead. The handwritten text, dated May, 6 [or 16], 1889, written on the first page. The surface of the letter a little creased, the creases also visible where it was folded into four for posting. The very faint remains of some pencilling at the top of the letter. Four pieces of rough paper in the corners of one blank page, presumably where it had been pasted in an album. The second, blank, leaf with some brown marks and a tear, approximately 2cm long, at the bottom.
Sir Walter Besant (1836-1901), novelist, historian and social reformer, was the founder of the Society of Authors amongst many other achievements. The novels he wrote in collaboration with J. Rice, such as The Golden Butterfly, became best sellers, but perhaps the most popular of his works today are those on the history of London.