Letter 1822 describing the actor George Frederick Cooke, signed B.M. Oakley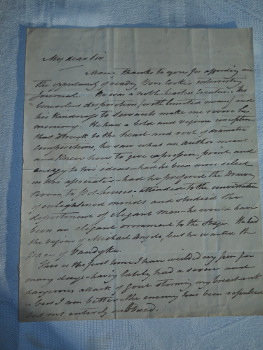 The subject of this letter must be the English actor G.F. Cooke (1756-1812); according to the Dictionary of National Biography his career was plagued by alcoholism. His journal is still in existence, preserved in the Harvard University Theatre Collection.
The recipient is probably the actor Charles Mathews (1776-1835) or his son Charles James Mathews. In 1822 Charles Mathews undertook a tour to the United States, which may explain the reference to 'coming back' and a 'prosperous gale'.
The letter begins;-
'Many thanks to you for offering me the opportunity to read poor Cooke's interesting Journal...He had a bold and vigorous conception that struck to the root of dramatic compositions, he saw what an author meant....had he been more select in his associates, had he prefered the Drawing Room to pot-houses had he attended to the conversation of enlightened minds and studied the deportment of elegant men - he would have been an ornament to the stage. He had the vision of Michael Angelo, but he wanted the grace of Vandyke.'
After giving an account of his own attack of gout he continues;-
'I know not when you mean to come back [?] I can only breathe my wishes for a prosperous gale...'.
The letter is signed B.M. Oakley and dated 15 July 1822.
The recipients name is written at the bottom of the second page; Charles Mathews.
The letter written on a sheet of paper approximately 23x18cm. The paper creased with the marks of many folds running across it. A number of short tears the longest about 1cm long. A small hole in the letter just touching one letter. Some browning and marking to the paper, but never obscuring the writing.
Additional Pictures: