Tractarian controversy: Wearing of vestments. Letter, 1882, from the Bishop of Manchester.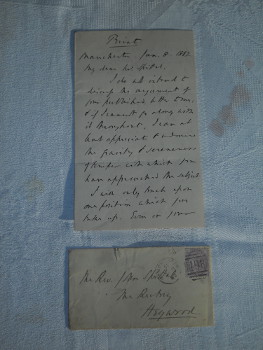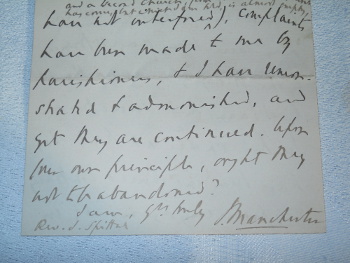 Letter to the Rev. John Spittal from the James Frazer, Bishop of Manchester, dated 'Jan. 8 1882'.
John Spittal, Tractarian Anglican priest, Rector of Heywood Lancashire 1878-85.
From the Bishop of Manchester James Fraser,
Concerning '...the use of the Vestments...'
An interesting letter in which the Bishop addresses an instance of the upheaval caused in the Church by the spread of Anglo Catholic practices introduced by the Tractarieans.
After referring to a publication of Spittal's the bishop writes;-
'I will only touch upon one position which you take up. Even on your own ground..."The concurrence of the Clergy and Parishioners, with the sanction of the bishop," for the use of the vestments: you say that it is "no doubt contrary to the commonest principles of order that any Clergyman shd., without any reference to his bishop introduce in the public worship of his parishioners a dress not seen in his Church for 250 or 300 years?"
Yet this violation of "the commonest principles of order," is what has taken place in every Church in this diocese in which the vestments are worn...(Except one Church, where I believe they were introduced before I came into the diocese [word illegible], in consequence of no complaint being made, I have not interfered...) Complaints have been made to me by parishioners, and I than [word illegible] and admonished, and yet they are continued. On your own principles, ought they not to be abandoned?'
He signs the letter J. Manchester.
The letter written on four sides of a folded sheet of letter paper. Some marking and creasing, but the writing never obscured. A piece of paper approximately 2cm square stuck to the back of the letter. With the original envelope. The envelope torn and grubby.